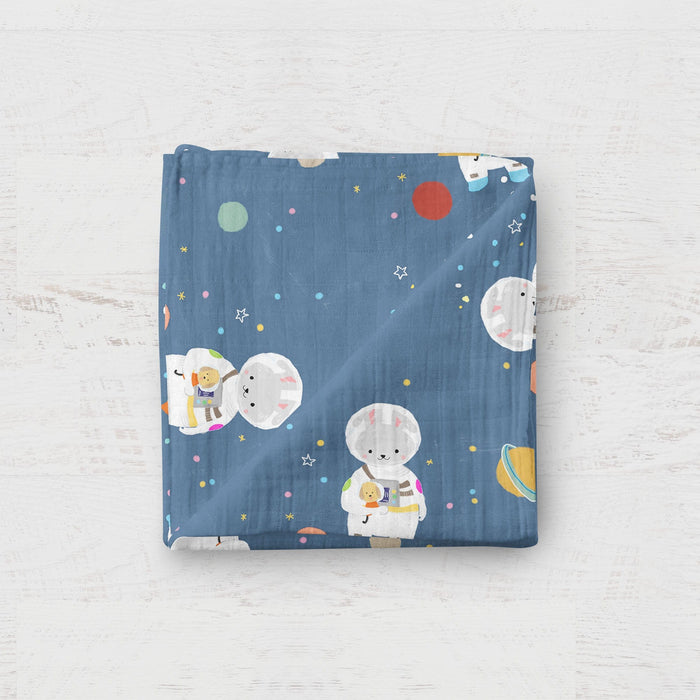 Suki McMaster - Bamboo Muslin Swaddle Baby Wrap - Astronaut
Original price
$44.95
-
Original price
$44.95
Original design of Suki McMaster featuring astronaut in the space. 29 March 2019 NASA was about to make one giant leap toward gender equality with an all-female spacewalk but the mission was scrapped when a female astronaut discovered there wasn't a spacesuit available in her size. Unfortunately this plan is now not going ahead, because NASA can't find two spacesuits that fit women apparently! How crazy! Anyway this drawing was inspired by this news, at least I found the spacesuits for the bunny and the little cat. Colourful and bright colours can stimulate baby's brain. The extra large size makes our muslin perfect for young kid as a blanket.
About this product
70% Bamboo 30% organic cotton
Our silky soft swaddle wrap is made of 70% bamboo and 30% organic cotton, making it extremely gentle on babies skin.
The eco-friendly fibres allow for air to be circulated which can assist in regulating baby's body temperature and prevent overheating. The blanket is digitally printed and colour fast, meaning it can be washed with baby's other clothing.
Extra large
Our oversized muslin is measured 47" x 47" (120cm x 120cm) which is large enough to swaddle baby and young children. The large size makes this swaddle blanket usable long after the newborn stage. As your baby gets older, it will turn into a beloved soft security blanket.
Ultra soft
Our muslin is extremely luxurious and soft, ideal for baby's soft and delicate skin.
Multifunction
Our extra large swaddle blanket is not just for naptime. It is perfect for travelling, tummy time, when nursing, as a nappy change blanket, and pram cover. It's perfect for all seasons.