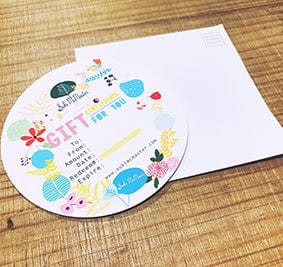 Gift Card / Voucher
Original price
$1.00
-
Original price
$1.00
Want to get a Suki McMaster gift for your friend but not sure what? You can now gift your friend our beautiful gift card! 

This is a physical copy of the gft voucher. If you wish to get the gift voucher email please choose our e-gift voucher. 
Steps
1. Add gift voucher to shopping cart
2. The voucher starts from $1, so if you wish to get your friend a $20 voucher, please change the qty to 20, if you wish to get a $49 voucher, change the qty to 49
3. Let us know if you want a physical gift voucher or just email by leaving comment in the note area
4. We will email and post the voucher for you
T&C
Gift voucher is redeemable online and in store, valid for a year from purchase day.