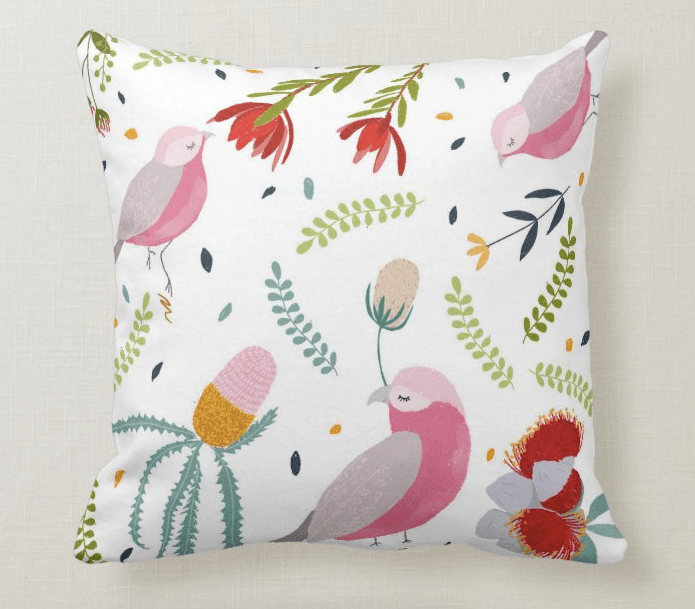 Suki McMaster Cushion Cover - Georgie Cockatoo
Original price
$40.00
-
Original price
$40.00
The legendary Cockatoo…an elegant, intelligent species and one of Australia's favorite birds without a shadow of a doubt! Cockatoo's epitomize love, affection and compassion, and I tried to represent this within my painting. Commonly known as the 'love sponges' of the parrots, I wanted to draw this picture to try and inspire and motivate us all to be more loving human beings; to select love over hate, to forgive rather than hold grudges and to choose a stunning smile over a ferocious frown. Ultimately, I hope you show as much love towards this painting as Cockatoo's regularly show towards everybody! 

Product Detail:
• Cushion Cover and Insert Measurement: 45cm x 45cm
• All my designs are created by hand. I drawn the patterns using water colour or colour pencil.
• Double sided
• Cushion Cover is made of high quality 100% organic cotton, soft to cuddle 
• Hidden zipper enclosure
• Cushion Cover Care Instruction: Warm/Cold wash. Do Not Bleach. Do Not Iron Print. Do Not Dry Clean.
• $40 for cushion cover only, cushion insert available separately in the following link
https://sukimcmaster.com/products/pos-cushion-insert-50x50?variant=42482543433