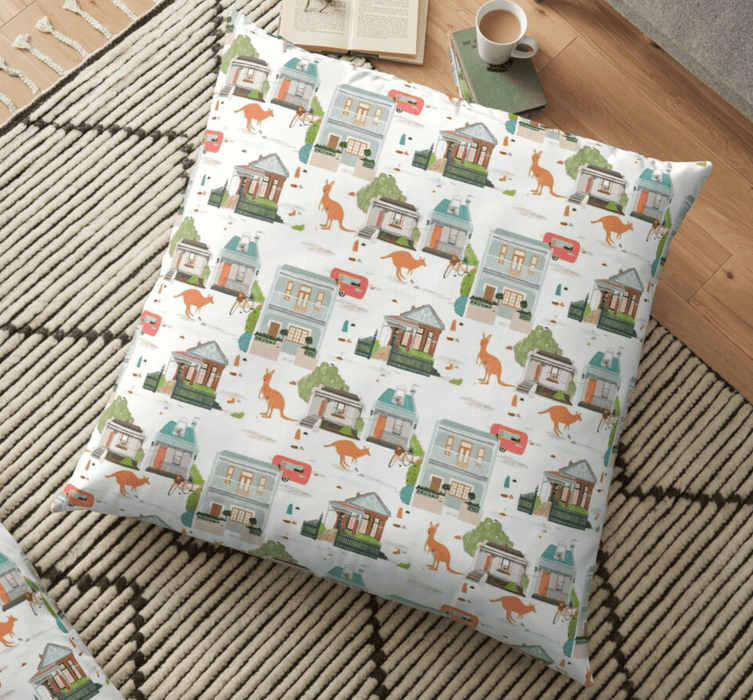 Floor Cushion (Free Shipping) - Melbourne Houses (Lockdown) by Suki McMaster
Original price
$100.00
-
Original price
$140.00
Inspired by the 6th lockdown in Melbourne in 2021 but in a fun way! We have children connecting with their friends in different house. Melbourinian loves their coffee and they will never stop even we are in lockdown. And since foreigners always think that we have kangaroo wandering around the street so I included some kangaroo in our neighbourhood. Maybe if we lockdown too much all the animals will come to our street? Who knows! 
Our new floor pillow features Suki McMaster original illustration. It is perfect for a relaxed afternoon lounging around. The big floor pillow is 1 x 1 meter with a removable cover. It's good for adult and your little one. 
Details:
• Cushion Cover and Insert Measurement: 100 x 100cm
• Cushion Cover is made of high quality 100% polyester 
• Removable cover for easy cleaning
• Made in Australia 

• All my designs are created by hand. I drawn the patterns using water colour or colour pencil.
• We use Inner Green Australian made cushion insert.
• Inner Green's line of recycled PET cushion inserts are filled with 100% PET fibre, which is derived from recycled water bottles. They look and feel similar to high-grade polyester cushion insert, but have a greater resilience rating and will last for much longer. For very 1kg of fibre used, we can save more than 70 water bottles from landfill.
• All cushion inserts are non-allergenic. Machine Wash. Line dry to ensure best possible quality.
• Hidden zipper enclosure
• Cushion Cover Designed in Australia printed overseas
• Cushion Cover Care Instruction: Warm/Cold wash. Do Not Bleach. Do Not Iron Print. Do Not Dry Clean.
Made in Australia