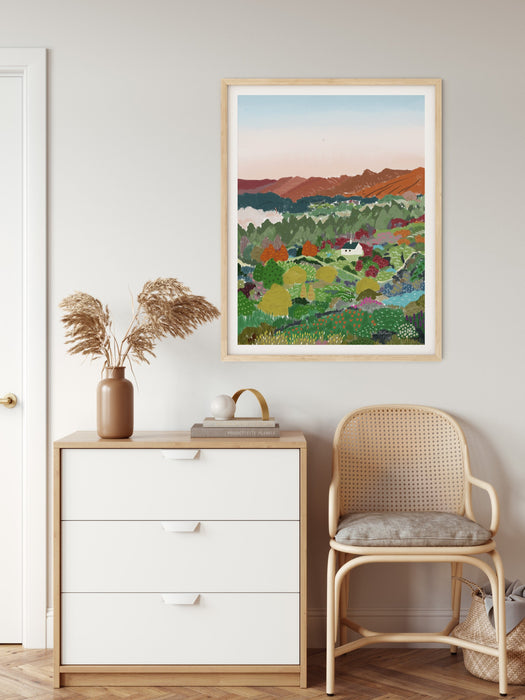 Suki McMaster | Wall Print - Adelaide Hill
Original price
$30.00
-
Original price
$90.00
Print Bundle, no code required.
Buy any 2 get 10% off
Buy any 3 get 20% off
Buy any 4 get 30% off
The Story
Introducing the exquisite wall print "Adelaide Hill" by Suki McMaster. This magnificent piece is inspired by the my road trip from Melbourne to Adelaide, where the stunning Adelaide Hills left an indelible impression on me. 
 
This print captures the breathtaking beauty of the autumn colors in Adelaide Hills. Although we've been traveling to Adelaide for Bowerbird market for years, the beauty of Adelaide Hills take my breath away every time we approach Adelaide. 
I think the warm hues of orange, yellow, and red evoke a sense of calm and tranquility, making it the perfect piece to add a touch of serenity to any room.
Whether displayed in a living room, bedroom, or office space, "Adelaide Hill" will transport you to a place of beauty and serenity. Its timeless appeal makes it an ideal gift for loved ones or as a special treat for yourself.
So why wait? Bring the breathtaking beauty of Adelaide Hill into your home today with this stunning wall print by Suki McMaster. It will be a piece you treasure for years to come.
Product details
This beautiful original print is the perfect gift for your friends and loved ones. It's suitable for every room in your house or even your caravan!
• Printed in Australia
• This original print is printed on 250 gsm Carson matte paper for A4 and A3. 150gsm silk paper for A2
• 3 size available
A4 21.0 x 29.7cm
A3 29.7 x 42.0cm
A2 42.0 x 59.4cm
•Each print will be numbered, signed and dated.
**Frame NOT included.