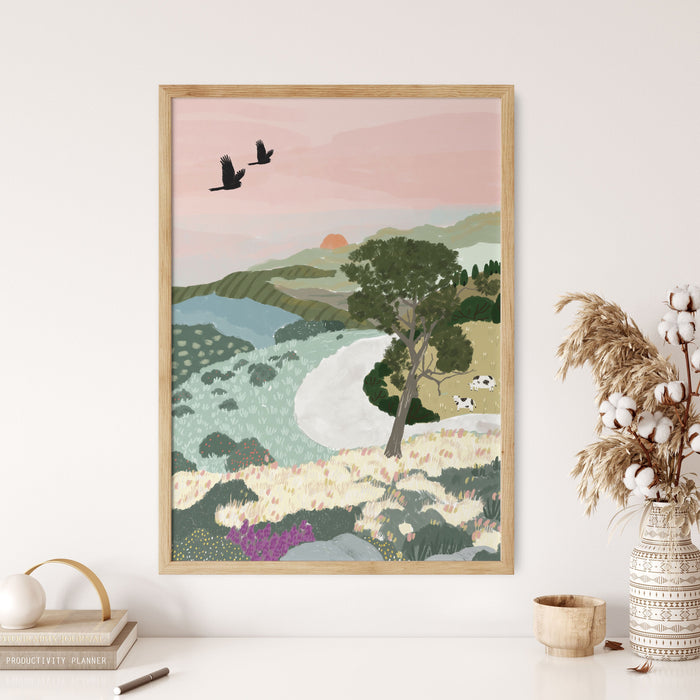 Suki McMaster | Wall Print - Eden
Original price
$30.00
-
Original price
$90.00
Print Bundle, no code required.
Buy any 2 get 10% off
Buy any 3 get 20% off
Buy any 4 get 30% off
The Story
This artwork is inspired by my road trip from Melbourne to Berry, located in the beautiful South Coast of New South Wales.
As we journeyed towards Berry, she passed through the charming town of Eden, which is situated halfway between Melbourne and Sydney. Eden's breathtaking landscape always leave us a lasting impression, and I was inspired to create a piece that captures its natural beauty.
"Eden" depicts the stunning view of the ocean and the river on both sides of the hill, just before entering the town. The artwork showcases the magnificent colors of the sky, sea and the natural landscape. The shades of blue, green and earthy tones are skillfully blended to create a breathtaking panorama that is both calming and exhilarating.
This artwork is perfect for any room, be it your living room, bedroom, or office. It will serve as a constant reminder of the beauty and tranquility of nature. The colors and imagery in this artwork will add a touch of serenity to your home or workplace, making it the perfect addition to any décor.
• Printed in Australia
• This original print is printed on 250 gsm Carson matte paper for A4 and A3. 150gsm silk paper for A2
• 3 size available
A4 21.0 x 29.7cm,
A3 29.7 x 42.0cm
and A2 42.0 x 59.4cm
•Each print will be numbered, signed and dated.
**Frame NOT included.