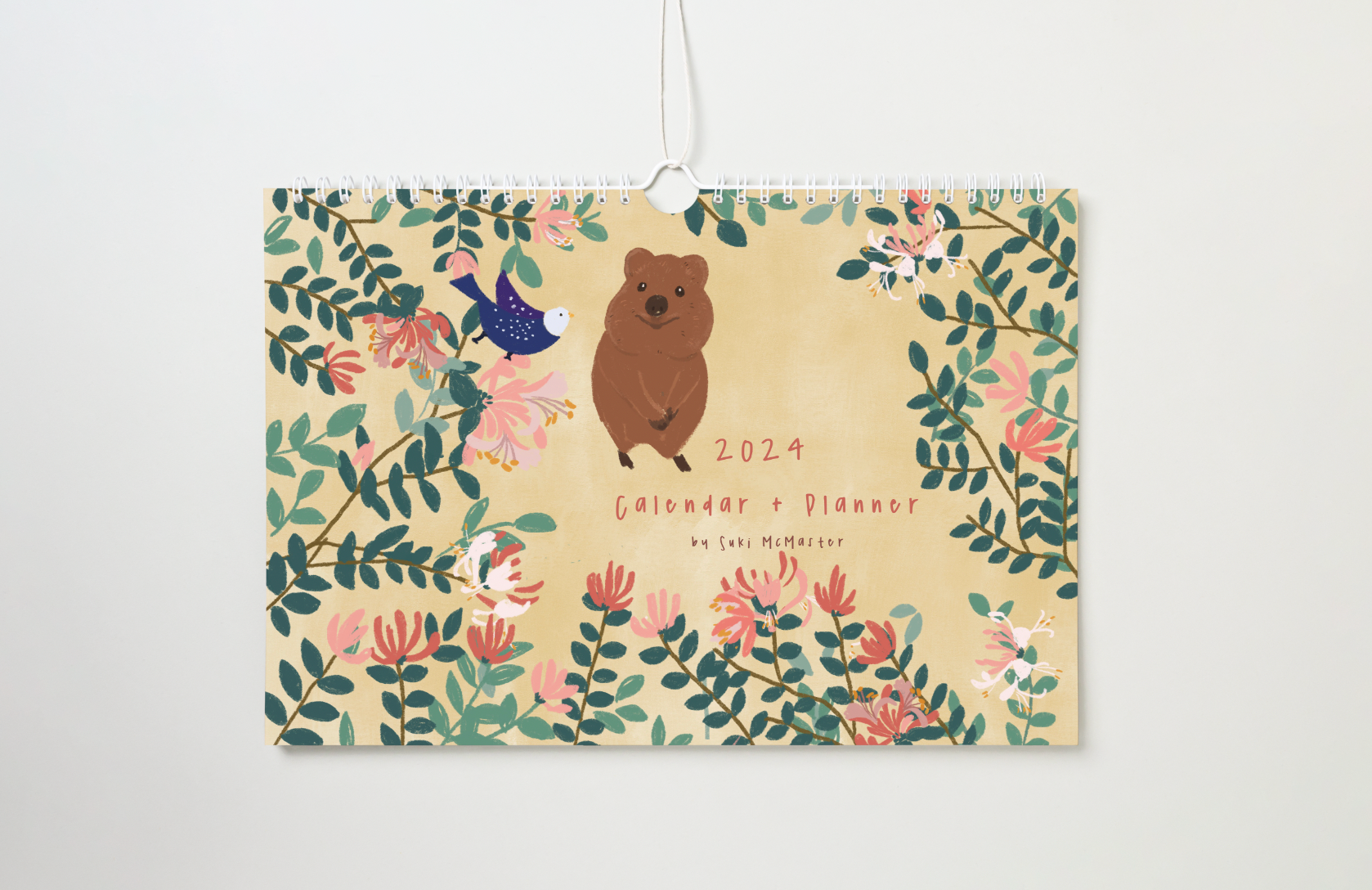 Creating Art and Cherishing Moments: The Annual Calendar Journey
Hi Dear Readers,
It's the calendar time of the year again!
Choosing what to draw for the calendar each year is no easy task. I've set myself the noble goal of crafting at least one drawing each month to avoid the end-of-year stress, but I must admit that this goal has had its fair share of laughter and falls! 😅
As this is my 4th calendar,  I can't help but reflect on the sense of accomplishment these creations bring me. Out of all the products I've poured my heart into, the calendar stands tall as the one that tugs at my heartstrings the most.
Why, you ask? Well, crafting 24 pages of illustrations, coming up with a theme, and searching for just the right inspirational quotes that resonate with my gang is no walk in the park. But when the last stroke of the pen meets the page, and you can finally flip through those beautiful pages at your fingertips, it's nothing short of magical. The reward is not just in the end product but in the journey itself. 
When I made the first calendar, it's for my best friend in Hong Kong. She's been through some low time and that calendar was dedicated to her. I want her to feel loved when she sees my calendar. I want her to have the courage that I have. I want her to feel comfort just like having a conversation with me. And since then, I have been drawing the calendar with this mindset. 
The past couple of calendars have been all about infusing hope and courage into people's lives as we navigated the challenging waters of post-COVID life. This year, our calendar is a tribute to the present moment, an ode to embracing who you are and loving what you do. 🌟
Now, here's a little secret: Our calendar is a limited print of just a hundred copies. I don't want to see too much of my hard work gathering dust on the shelves. But more importantly, I couldn't bear the thought of these beauties ending up in a landfill somewhere. 🌍
What makes it even more special is that this limited print is shared with only 100 people who truly love my work and cherish the calendar as much as I do. It's a small, close-knit community of art lovers and calendar enthusiasts, and I couldn't be happier knowing that my creations find a home with such passionate individuals.
So, here's to another year of inspiration, creativity, and cherishing the little moments that make life beautiful. As I embark on this new calendar-making adventure, I want to express my heartfelt gratitude to all of you who have been a part of this journey, whether as a calendar owner or a fellow art enthusiast.
Remember, life is not about the destination; it's about the journey. And in that journey, we find the true essence of art, love, and appreciation. 💖
Thank you for being a part of my world, and I can't wait to share this year's calendar with you. Until then, let's continue embracing life, one moment at a time. 🌻
 Pre-order your 2024 calendar here!